ROGERS / RUPP / SCHUBERT
Olaf Rupp


electric guitar



Paul Rogers


double bass



Frank Paul Schubert


soprano saxophone



new CD:
Relative Pitch Records, New York
www.relativepitchrecords.com

Release date: September 2018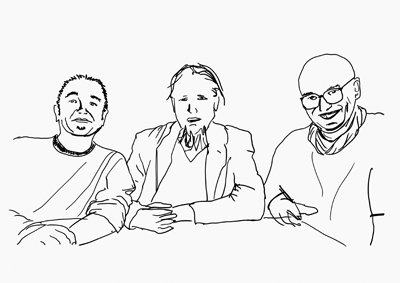 "There is quite a bit of quiet, restrained improv which sounds wonderful since it so carefully well executed, tight, thoughtful, organic. There are also some intense, explosive moments, when the sh*t hits the fan, but these are interspersed within a strong connected body of work which flows just right."
Bruce Lee Gallanter, Downtown Music Gallery
Embed the Soundcloud player with this link:
Promotext (deutsch/english)
Schon wieder ein Trio ohne Schlagzeug. Olaf Rupp hat ja schon einiges mit Schlagzeugern aller unterschiedlichster Provenienz angestellt, von Burkhard Beins bis Michael Wertmüller. Aber genauso, wie bei seinem Duo mit der Cellistin Ulrike Brand, wie auch dem Trio mit Jan Roder und Rudi Mahall, so fällt auch hier auf, dass gerade die rauhen, verzerrten Klänge der E Gitarre sich ganz anders in den Gesamtklang integrieren, wenn da eben kein Trommler dahinter ist, der das ganze allzu schnell in bekannte assoziative Bahnen treibt. Paul Rogers kennen viele wohl am besten von seiner Zeit beim Keith Tippets Quartett MUJICIAN. Sein speziell entwickelter Kontrabass mit 7 Saiten ermöglicht ihm gerade in diesem Trio sich extrem frei zwischen einer weiten Spanne von Registern von den tiefen Growls der E-Gitarre bis hin zum hohen Glänzen des Sopransaxofons zu bewegen. Frank Paul Schubert hat mit seinen Ensembles schon einige Erfahrung mit E-Gitarren (Andreas Willers bei GRID MESH) und auch mit dem Siebensaiter von Paul Rogers (bei ROPE). Er versteht es hervorragend, sich sehr vital in dem Spannungsfeld zwischen klanglicher Verfremdung und tonbezogenen Linien zu bewegen. Die Musik dieses Trios lebt von dem Vertrauen und dem Vergnügen, sich immer wieder neu in das Kommen und Gehen musikalischer Kleinszenarien einzulassen.
So here is another trio without a drummer. Olaf Rupp has quite a history of collaborations with drummers of many distinctive characteristics, from Burkhard Beins to Michael Wertmüller. But just like in his duo with cello player Ulrike Brand and his trio with Jan Roder and Rudi Mahall it is obvious that especially the rough and saturated Sounds from the electric guitar go together very well with the overall spectrum when there is not a drummer who pushes the whole thing all too quickly in the usual associative directions. Paul Rogers is well known from his time in Keith Tippett's quartet MUJICIAN. His custom-made seven string bass allows him to move extremely freely inside the wide field of registers in this trio ranging from the electric guitars deep growls way up to the high sparkle of the soprano saxophone. Frank Paul Schubert has already a lot of experience with electric guitars from his group GRID MESH with Andreas Willers as well as with Paul Roger's 7-string-bass in his quartet ROPE. He knows impressively well how to move vigorously in the terrain between extended techniques of sound manipulation and more tone-related lines. The music of this trio draws its vital energy from the joy and confidence that lies in diving over and over again in the coming and going of a never-ending stream of ephemeral musical scenarios.
Der Saxophonist Frank Paul Schubert (*1965) begann autodidaktisch, studierte dann klassisches Saxophon bei Lajos Dudas und später an der Musikhochschule Aachen bei Hugo Read. Schubert lebt seit 1999 in Berlin. Er arbeitet(e) regelmäßig mit Willi Kellers, Andreas Willers, Johannes Bauer, Matthias Müller, John Edwards, Mark Sanders, Paul Dunmall und Alexander von Schlippenbach. Festivalauftritte: Nickelsdorf Konfrontationen, Ulrichsberg Kaleidophon, Sibiu Jazz&More, Madrid Hurta Cordel, Lisbon Jazz im Goethe Garten, Wiesbaden Just Music, Hamburg ElbJazz, JAZZDOR (Jazz d'Or) Offenburg, Greiz JazzWerk#9, Nordhäuser Jazzfest, Stuttgart Saxophonfestival. Zahlreiche Tonträger auf international vertriebenen Labels.
Der Bassist Paul Rogers (*1956) zog 1974 nach London und spielte dort mit den Protagonisten der Englischen Free-Jazz-Szene, wie Mike Osborne, Elton Dean, Keith Tippettt, Evan Parker; John Stevens, Alan Skidmore etc. Er lebte ab 1987 für anderhalb Jahre in New York und arbeitete dort mit Tim Berne, Don Byron, Gerry Hemingway, Tom Cora u.a. Seit 1988 war er Mitglied des Quartettes MUJICIAN mit Keith Tippett, Paul Dunmall und Tony Levin, mit dem er weltweit tourte und zahlreiche Tonträger einspielte. Gemeinsam mit Paul Dunmall und Mark Sanders bildet er das Deep Whole Trio. Er spielt einen eigens für ihn angefertigten 7-saitigen Kontrabass mit 10 weiteren Resonanzsaiten, auf dem er auch Solo-Konzerte gibt. Paul Rogers lebt in Le Mans, Frankreich.
Olaf Rupp (*1963) spielt Improvisierte Musik auf der Konzertgitarre und der E-Gitarre. Seine organisch fließenden Themenentwicklungen entstehen weder durch Zufall noch durch dominante Willensentscheidung. Er beschäftigt sich in seiner Musik viel mit der geräuschhaften Klangfarbenwirkung mehr oder weniger stark verdichteter Bewegungscluster (Ton Murmurationen). Dabei ist jede einzelne Note ein charakteristischer Farbpunkt in einer Klangmatrix und diese "Tonfarbe" ist wichtiger, als die Position dieser Note in üblichen Ordnungssystemen. Eine Reihe von Tönen erzeugt also keine Melodie, sondern einen bewegten Klang. Und die eigene Farbe jeder Note ist dabei wichtiger, als der melodische oder harmonische Überbau, mit dem man sie zu beladen geneigt ist. www.audiosemantics.de
reviews
"Featuring Frank Paul Schubert on soprano sax, Olaf Rupp on guitar and Paul Rogers on seven string double bass. It has been a while since we've heard anything from UK contrabassist Paul Rogers (2 years), who lives in South France and has worked at length with Paul Dunmall and Keith Tippett in Mujician. Berlin-based guitarist Olaf Rupp has been around for a couple of decades and has more than a dozen discs of solos, duos and trios on labels: FMP, Grob and JazzWerkStatt. German saxist, Frank Paul Schubert, has also remained below the radar but has worked with Alex Von Schlippenbach, Paul Dunmall and Willi Kellers.
This disc was recorded in a studio in Berlin in July of 2017. The sound on this disc is extremely warm, clean and well produced. Paul Rogers, who has a custom-made 7-string bass & bow, has an extraordinary, completely distinctive sound. Although Mr. Rogers and Mr. Rupp have never recorded together (as far as I know), they work extremely well together, coaxing similar sounds on their respective stringed instruments. When the tempo becomes a flurry, it is difficult to tell them apart. Mr. Schubert also seems like a perfect partner, his soprano weaving in and out, while the strings dazzle us with their frenzied interaction. There is quite a bit of quiet, restrained improv which sounds wonderful since it so carefully well executed, tight, thoughtful, organic. There are also some intense, explosive moments, when the sh*t hits the fan, but these are interspersed within a strong connected body of work which flows just right. At nearly 70 minutes long, this is quite a bit to digest but I must admit that I was consistently mesmerized throughout its entire length. Considering how much great music has already been released on the Relative Pitch label, this disc remains near the top of the heap so dig in now!"
Bruce Lee Gallanter, Downtown Music Gallery